Design & Technology / Product
From the Past to Future – A Look at Kia Box Shaped Cars
August 11th, 2012
Jeet Dhindsa, Overseas Communications Team
Describing a car design as 'boxy' might not sound very stylish, but it's a shape that can be found in one form or another throughout automotive history. The dawn of the minivan and SUV have helped 'boxy' take on more positive and sometimes even 'sexy' connotations, and vehicles like the Kia Soul have definitely brought a new flair to rectangular styling.
Today on Kia-Buzz, we're going to highlight how box shaped cars have appeared in incredibly stylish, strangely questionable and forms that are everything in between throughout Kia's design timeline.
Before we jump in, let's break down some terminology that car designers often use to describe box shape vehicles:
Types of Boxes
"The 1-box"
The 1-box is a single continuous volume or shape, but shapes with a slight wedge at the front or rear are still generally placed in this category. In other words, it literally looks like a box.
"The 2-box"
In the case of the 2-box form, there is usually a "box" representing a separate volume from the a-pillar forward and second box makes up the rest of the body. For example Station Wagons, Kia Soul and Ray would be considered 2-box designs.
"The 3-box"
In the 3-box form there is a "box" delineating a separate volume from the a-pillar forward, a second box comprising the passenger volume, and a third box comprising the trunk area — e.g., a Sedan.
Note, these are broad automotive styling terms, and the 2-box and 3-box can be used to describe shapes that are not strictly rectangular.
1980 – 2005: 'The 1-Box' Era
Bongo Coach print ad in Korea 1981
Introduced in 1981, The 'Bongo,' was first sold exclusively in Korea, but later moved onto some select international markets. Also known as the 'Bongo Coach,' it was one of Kia's most boxy shaped passenger vehicles, and it was such a hit that it quickly became Kia's bestseller in Korea, and helped the company stay above rough economic waters that were impacting the auto industry.
The Bongo went through some name and styling changes, and was later known as the 'Besta,' but its production ended in 2006 under its final name 'Pregio.' Kia decided to move away from the 1-box style in order to observe a movement in car-safety that determined the shape was not ideal for taking front-end collisions.
2008 – Present: Goodbye Bongo, Hello Soul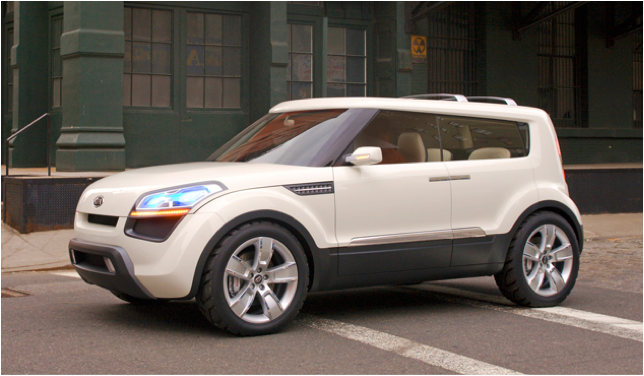 2006 Kia Soul Concept
Born in 2006 at Kia's California design center as a concept vehicle and brought to actual production in 2008, the Kia Soul has quickly become a category leader in the 'box' shape style segment outselling other boxes like the Nissan Cube and Scion xB in the US Market.
As Kia's compact urban passenger vehicle, its unique styling features have earned the Soul numerous awards from distinguished design organizations such 'Red Dot.' Its angled window line, rounded nose, large headlights and chrome grille brought a new attitude to compact cars as well as more practicality.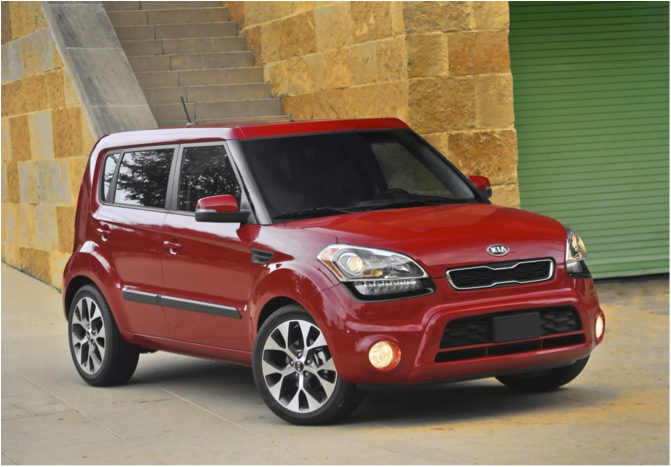 2013 Kia Soul
2012 – Present: Kia Ray (Korean market)
Kia Ray
The Kia Ray became available earlier this year for the Korean market only and this city car provides drivers with economical motoring and a spacious and highly versatile interior, while standing out from the crowd thanks to its striking box-type exterior design. From the front, Ray combines Kia's signature radiator grille with unique headlamps and LED daytime running lights, creating a bold and confident appearance. In profile, Ray's unique side glass configuration enhances the vehicle's individualistic aesthetic appeal.
Ray's sliding passenger side rear door not only enables easier passenger entry and exit in tight parking spaces, but also provides for a wide, unobstructed side opening for maximum cargo utility. From the rear, Ray presents a wide and stable stance, highlighted by prominent LED rear combination lamps and vertically positioned bumper reflectors.
Possible future Kia box cars – KV7 and Track'ster
KV7
The KV7 concept suggests what might be the future of a boxy van for Kia. It was introduced at the 2011 Detroit Motor Show, and although it's classified as a van, it brings SUV-like qualities to the segment with the dramatically raked windshields and wedge-shaped noses. Conceived as a modern-day "activity van," the KV7 concept challenges the notion that vans are strictly for family transportation and reveals a vision for a vehicle with the functionality to transport a large number of people and their belongings while also serving as a connected social hub for groups of friends and adventure-seekers.
Track'ster
Our California design center revealed the Track'ster concept this past February at the North American International Auto Show in Detroit. Soul fans will instantly recognize the Track'ster's angled roof and closer inspection reveals this concept, while Soul inspired, is missing the production car's rear doors. The front doors have been lengthened and adorned with smooth billet push-style handles, which echo the racing-inspired billet fuel filler door. This three-door Soul coupe concept hints at what could possibly be the future of Kia's wildly successful Soul.
Learn More
What do you think?
What is your favorite box type car from Kia? Tell us what you think in the comment section below.